The East High Alumni Page presents:

East High Class Reunions
East High School, Memphis, Tennessee

This page will provide headlines and links to details for class reunions. Be sure to send in any information you have about your class reunion plans so we can post it here. Don't miss the mini-reunion section and coverage of past reunions below the major reunion headlines. If you have a text report or photographs of your reunion, send those, too.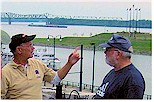 Everyone might be interested a list of some things to do in the Memphis area on our
Visiting Memphis page
.
Submit Reunion Announcements and Information - Click here

For all alumni:


Reunion Schedules & Reports


An alumnus wrote, "I was actually not even considering attending the reunion until I read all the updates on everyone....so, now, I will DEFINITELY BE THERE!!!" (Capitalization hers.)


It appears the known reunions occuring in 2015 have been completed.





If your class has had a reunion which is not covered here, you may submit a report about and/or photographs of the reunion. Contact us at editor@EastHigh.org.





For reunion organizers:
Tips, Ethics, Publicity

For Reunion Ideas and a proposed Reunion Code of Ethics, see our Services page.

To have information about your East High School reunion listed or to have pictures and/or a narrative about a reunion posted, please send the information to editor@EastHigh.org.


For a commentary on keeping reunions affordable, see the Editor's Memo





Do you have a

computerized listing of the full name of the members of your class

as they were known at East that you are willing to share with The East High Alumni Page? Such lists are used to help identify alumni if, for example, they are in the news. If you would like to send a list for use by The East High Alumni Page, please include the graduating class year to which the list applies and send it by e-mail attachment to editor@EastHigh.org

If you have any left over

copies of class biography booklets

from a reunion, The East High Alumni page could use one to help identify alumni.If you'd care to donate such a "booklet," please contact editor@EastHigh.org

Best wishes for a
great reunion!




Go Mustangs!


Return to The East High Alumni Home Page