* Scan old childhood photos and current pictures and send them via email to an "Instigator."
* Instigator will forward to all class email participants
* Let the guessing games begin?????????




* Check your ego at the door.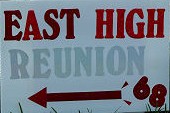 * Be yourself and be open. (No snobs here please)
* Ask questions with genuine sincerity about your classmate's life.
(Everyone has a story to tell no matter what walk of life they come from.)
* Listen closely to all answers.
* Don't even try to wipe that smile off your face. It's contagious!




* Participate in the events and activities with love in your heart.
* Your Gain will be Ten-Fold.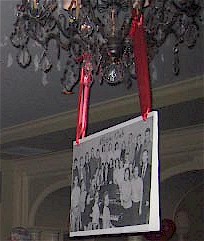 Have group photos from high school yearbooks copied and displayed throughout the room where the reunion is held and/or on the tables where participants will sit. One class had the photos enlarged and posted them on walls and hung them from chandeliers.




A very time consuming but rewarding feature a class offered was to assemble a video consisting of photos from the appropriate high school yearbooks for the class and pictures of landmarks and major activities from the high school days often drawn from the local newspaper(s) archives. The images were put together with a background of popular music from the time period. This video was shown at the reunion. It was difficult to find a time to show it, since the reunion basically isn't a passive watching experience, but when it was shown it was noted that people stood transfixed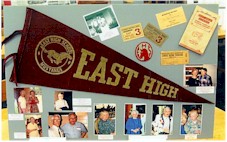 watching the video. It was enjoyed so much, by request, it was shown two more times during the reunion. Be sure to follow copyright laws!




Almost every reunion has a photographer, but one class went one better. It had a videographer that went around during part of the reunion with a classmate interviewing other class members. The video was offered to classmates after the reunion after it was edited. I never saw the finished product but it appeared to be a successful feature.




One class began its tour of the school in the library with a written trivia test with questions about its high school years and the school. The tests were graded by class volunteers while the rest of the class members toured the school. Those with the most correct answers were announced at the end of the tour. There could be several variations on this theme.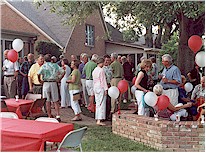 "... my small-town Kentucky class attends reunions done Potluck or picnic style a whole lot better than a Formal Dinner."
At least one East class has used a variation on this idea. It has had potluck food brought by local class members for the Friday night edibles. The Friday night event is frequently less formal, often held at a classmate's home, and in many cases is a highlight of the reunion.


"we found that folks wanted to visit, not dance so we sent our dj home early and this year we decided to not have a dj."
"DJ's are expensive and so is renting a dance floor. Most people won't dance. Use an available sound system and plug your computer, IPOD, or other MP3 and you have the music you want."
"We also found that not many people danced. Will bring in some other music next time in place of DJ that cost $500.00."
Carefully weigh a proposal to have a band, DJ, or other music for dancing. The focus of a reunion is talking with one another and music can interfere with that. As noted above by various classes, at some point dancing is not a high priority of class members and not providing for that can save a lot of money.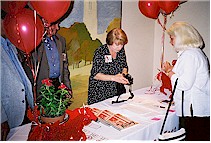 Post By Lorie (Guest Post) (01/19/2008) [posted at http://www.thriftyfun.com/tf311707.tip.html]

DJ's are expensive and so is renting a dance floor. Most people won't dance. Use an available sound system and plug your computer, IPOD, or other MP3 and you have the music you want.

No one remembers the money you spend on decorations just the people that are there.

Don't base your impressions of reunions on your 10th because you really haven't had time to grow as a person yet.

The 20th reunion is much better because you have grown and are comfortable with who you are. You find out that those snotty cheerleaders and jocks were not really snotty but incredibly shy confused teenagers. The ones that were wallflowers in HS have now blossomed into fascinating people.

Never hold grudges on what someone might have said to you or did something to you in school. It was the frame of mind of the adolescent who said the words and you too took the meaning of what was said with a child's mind.

The 30th reunion was the best, followed by a 50th class birthday party 2 years later and many gatherings afterwards. We are now "comfortable" in our skins (fat or skinny) and comfortable with whom we are as persons. We are now not judgmental but more kind, accepting, and empathetic of not only others but of ourselves.

Being over 50, we know that the extra pounds, grey hairs, or the lack of hair are not who we are. When we walk into the next class reunion people will not be looking at us but into our eyes and hearts, seeing the young person that was full of life and hope and also an older person that may have experienced too much heartache and disappointment.

We have finally "grown up".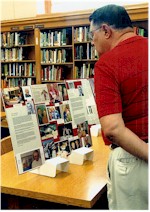 "CA copy editor

Beth Gooch ['75]

went to East High School and told me they had Krystal cater a high school reunion since that's where they used to hang out. And they even made just-cheese versions for the vegetarians." (The Commercial Appeal, July 30, 2008)





Meet your requirements, make it fun, and keep it as inexpensive as possible. Give all your classmates the opportunity to attend without creating financial stress on those who might not have much disposable income. Establish your needs for the reunion then meet them at the minimum cost.



Our salute to

the Germantown High School Class of 1969, which, for its 40 year reunion, held a Saturday night event at the Pickering Center in Germantown, TN, had catered BBQ by the famous "The Commissary restaurant," and did this for $10 charge/donation per person!

The Pickering Center gives reunions for schools in Germantown a special rate, $100 for 4 hours and $40 for each additional hour. While East High wouldn't qualify, if an alumnus who lived in Germantown engaged the facility, it could be rented for $150 for 4 hours + $40 per additional hour. Even at its total non-resident cost of $290 for 4 hours + $70 per additional hour the cost may be substantially lower than many other facilities.* (One high school reunion is understood to have rented a facility costing $2,500!)
The Pickering Center rental prices are based on Germantown's listing, Nov. 2010





Contributors:

Nan Lambert
Class of 1958
Class of 1955
Class of 1968
Beth Gooch ('75) in an article in The Commercial Appeal
Eddie Settles (associated with the Class of '69)
Ken Welch ('68)