---
If anyone would like to submit photos of or a narrative about the 2014 reunion, please send your information to
editor@EastHigh.org
---
[June 13, 2014]
On Friday [June 20, 2014], we want to first meet at the upstairs room at Local (former Yosemite Sam's)
If you haven't been to the Square in a while, you will be pleasantly surprised at how it looks and the activity.
Go to: www.overtonsquare.com to learn more.
We will start gathering at 5:30 and sometime around 7:00 we can order food at Local or go to Friday's (Babalu) or Bombay (Bosco's)
Saturday we will meet at 6:30 at the Rendezvous for dinner in a private dining room downstairs, then migrate to the Peabody lobby.
Please reply and let us know if you will be attending so we can give Local and the Rendezvous a "head's up."
[contact Kathy Wilkins at

]


---
---
May 21, 2014
The 45th Reunion of the East High class of 1969 will be June 20 & 21, 2014 in Memphis.
Friday June 20- A Nostalgic Bar Hop at Overton Square. If you haven't seen The Square lately, you are in for a treat! The plan is to simply congregate in Bosco's (formerly Bombay Bicycle Club), Babalou (formerly TGI Fridays) and Local, (formerly Yosemite Sam's) All three have great food and Local has a second floor room with couches; a really great place to gather and visit.
Saturday, June 21- Dinner at the Rendezvous. We have a private room downtown stairs. Just go to the front desk and tell them you are with the reunion. Following dinner, we will migrate to the Peabody Lobby and monopolize as many couches and chairs as we can. Another great place to visit!
Both evenings will begin around 5:30. The reunion organizers are not charging any upfront deposits. Each person will be responsible for their own 'tab' at each establishment. You will also need to make your own overnight accommodations.
Please feel free to pass along this invitation to other]s in our class.

We ask that you let us know if you will be joining us! [contact Kathy Wilkins at

]
---
---
Photos from the 40-Year Reunion of the East High Class of 1969, June 12-13, 2009

If you have photos of the reunion you would like to share on The East High Alumni Page, or if you can supply a narrative about the reunion, please contact
editor@EastHigh.org
.
---
The following was previously posted: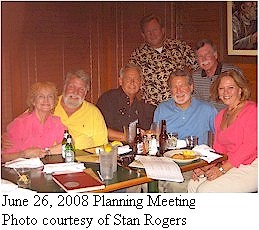 The 1969 class of East High School will celebrate 40 years with a

Reunion Weekend June 12-13, 2009


[updated April 20, 2009, "missing" list updated May 22, 2009]



June 12, 6:30pm at the Home of John and Lita Reed


$10 per person includes food and soft drinks Cash bar or BYOB, local celebrity chefs will be grilling, and entertainment by our original high school garage band "Itchy Rat & His Dirty Brothers" featuring: Ken eatherford, David Calliham, John Chambliss, Keith Collins, and Andy Turner Dress: comfortable, casual (shorts are fine…we'll be outside!)



June 13, 9:30am East High School Tour

http://www.easthigh.org
See your old teachers for conversation, photo ops, (and maybe some guidance).



June 13, 11:30am Lunch at the Krystal Everyone is responsible for their own lunch


Please include your lunch reservation with the confirmation. The Krystal needs to know how many to expect.



June 13, 8:00am Golf at Galloway Golf Course This is not confirmed unless there is enough interest.


This will be an 18-hole 4-man Scramble at $39 per golfer. If you are interested in playing contact Cameron Frechette
Spouses and guests are welcome to play.



June 13, 6-10pm Buffet dinner at Owen Brennan's Restaurant 6150 Poplar Ave, Memphis, TN 38119




$30 per person includes dinner, tax, tip Cost does not include cash bar or wine with dinner.


Patio entertainment Dress: dressy casual http://brennansmemphis.com/



Everybody must have a paid reservation.



For reservations and questions contact Kathy Wilkins McMath at easthigh69@gmail.com


---
Please forward any contact
information for anyone on this list to:
easthigh69@gmail.com

[list updated May 22, 2009]
Abbott, Vicki
Anderson, Julia (Rinner)
Bobbitt, Susan
Bowsza, Stanley Keith
Branning Scarborough, Mary Sue
Council, Doris Ann
Crawford, Stephen Lee
Crawford, Wayne
Curry, Elizabeth
Curtis, Douglas
Davis, Dianne
Dunn, Patricia
Eastwood, Jeff
Edwards, Donna Gale
Ennis, Sharon
Erguden, Nurhan
Gage, Charles
Garner, James
Goodman, John
Hanna, Mary Jo
Harman, Frank
Hayes, Lonzo
Hinton, James
Hobson, Lee
Hogan, James Nathan
Huddleston, Nancy
Jackson, Jerald
Lewis, Donna
Mason, Debbie



Mays, Joyce
Nash, Bill
Paulus, Patricia
Phelps, Suzanne
Pittman, Gary
Pugh, Susan Gail
Rand, Sarah
Robertson, Earl
Robinson, Andrew
Robinson, Martha
Searcy, Dana
Sherman, Sheron Lyn
Shirley, Pamela
Simon, Suzanne
Smith, John
Smith, Sherrill
Spencer, Olen
Stanley, Sheila
Stephens, John
Stewart, Wanda Kaye
Stout, Janice (Freeman)
Thompson, Phyllis
Turner, Patricia (Tricia)
Wages, Brenda Jo
Walden, Barbara
Ware, Randy
Willcox, Charles
Williams, Allen
Young, Olivia
---


[previously posted on March 16, 2009]

A reunion planning meeting was held Sat Nov 22 at East High School. Mr McRae, the interim Principal was very hospitable and opened the office for a 'tour'. Some of us, not all of us, remembered the area behind the closed doors of the front office...namely the principal's office. Then into the Library where the weekly tutoring sessions were going on through the Greater East High Foundation. There we found Mrs. Margaret Taylor (at 91 years young) still teaching. She was delighted to see the 7 of us and promised to attend the reunion.

The main focus right now is contacting all our classmates. Lists were divided at an Aug meeting and redivided and subdivided today. Please email your contact information (and anyone you might know) to easthigh69@gmail.com and someone will be in touch by phone or email. 

The reunion dates are June 12, 13, 2009. Fri night will be at John Reed's house with food, BYOB, and our own original 'Garage Band' from high school. Sat morning will be a school tour and then lunch at the Krystal. Sat evening will be dinner at Owen Brennan's Restaurant, more food, more music, and more classmates to visit. If you haven't had enough, there will be an 'after hours' location for an extended party. There will be details to all these events in the coming months.

For those who will be traveling from outside Memphis and no longer have family members here, there are optional accommodations. There is a Hampton Inn and an Embassy Suites on Shady Grove close to the intersection of Poplar and within walking distance to Owen Brennan's. As well as some local classmates are offering their guest rooms. Again, more details later.

Classmates from '68 and '70 are welcome to attend the reunion as well as graduates from other schools who also attended East. The committee will need contact information for these people are and of course how many.

We're looking forward to a fun reunion weekend.

Contacts:
Kathy Wilkins McMath 901-767-4266 or 901-786-8855
Susan Hadaway Hanlon 901-758-0957
John Reed 901-767-1117