The East High Alumni Page presents:

Reunion Plans and Reviews
Class of 1973
East High School, Memphis, Tennessee

Plans for & coverage of the Reunion of the East High Class of 1968 will be posted here.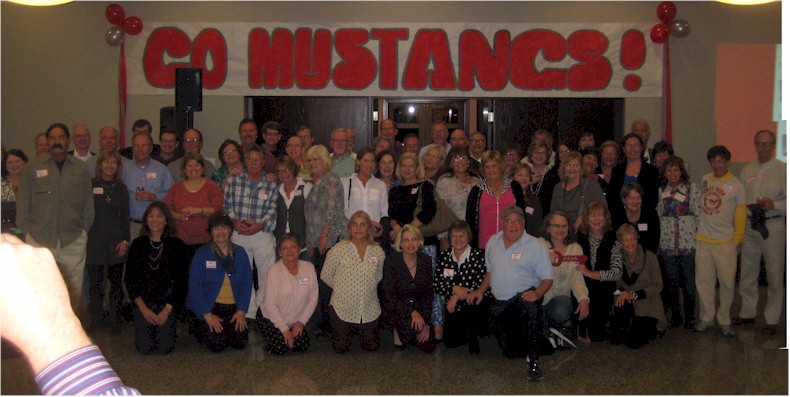 [posted October 30, 2013]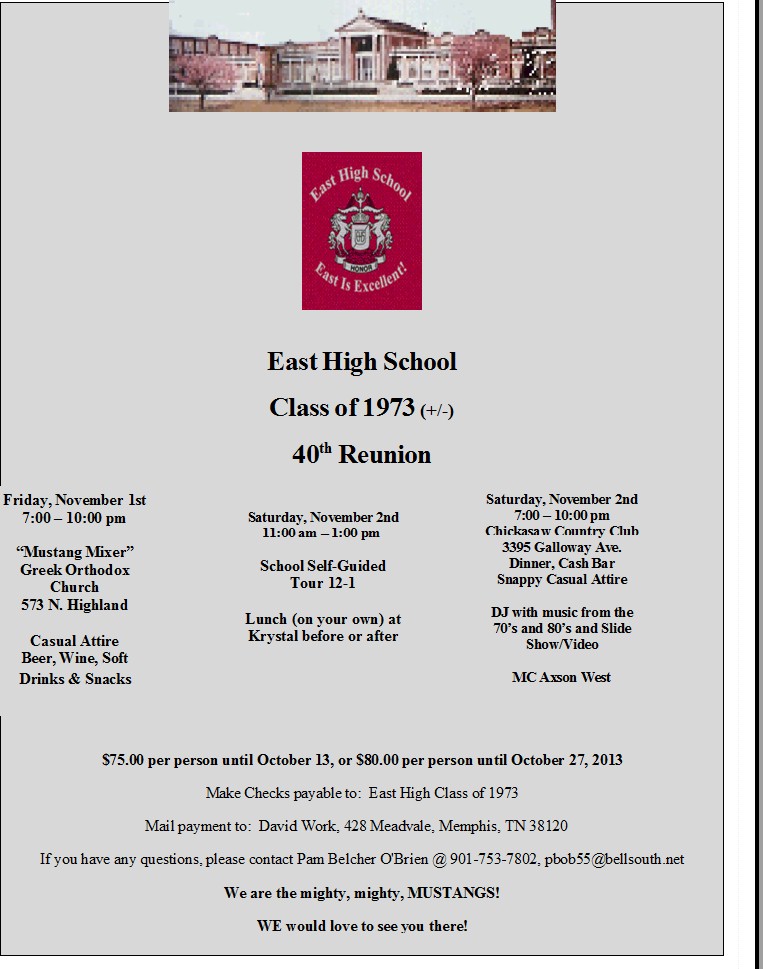 Even if you are unable to attend, we would appreciate you completing the form and sending it to David.

---
---
[previously posted on July 28, 2013]


More information soon.

Class of 1973 but 1972 and 1974 are invited.

- Suzy Gatchell Manley



















---
---
If anyone would like to submit text reports and/or pictures of past reunions, The East High Alumni Page would be pleased to consider posting them. Contact us at editor@EastHigh.org.
---
Past reunion information

[last updated Septmeber 1, 2003]

The final plans for a fun and nostalgic weekend have been made for the East High Class of 1973 30th Reunion.
On Friday, November 7, 2003 there will be a mixer from 7-10 PM at the Fox and Hound Restaurant-Burgandy Room, located at 847 Exocet Dr. in Cordova. There will be a cash bar, pool tables, game activities. Food can be ordered on an individual basis.
On Saturday evening, November 8, 2003 the class will meet at the Windyke Country Club Ballroom. Windyke is located at 8535 Winchester, located near the intersection of Hacks Cross Road and Winchester in Southeast Shelby County, within the Memphis City limits. Cocktails will start at 6 PM followed by dinner at 7 PM. There will be a DJ with music from the 70's and 80's, slide show, video, and a photographer for a group photo.
The fee per person is $50. Invitations will be sent starting September 1st. We have heard from many classmates who will be attending and expect a great turnout. Please contact Pam Belcher O'Brien at mikebutchsmom@aol.com or
at 901-753-7802 for further information regarding this reunion.

Return to The East High Alumni Home Page