The East High Alumni Page presents:
Reunion Plans and Reviews
Class of 1955
East High School, Memphis, Tennessee
Plans for & coverage of the Reunion of the East High Class of 1955 will be posted here.*


Note: As an anti-spam measure, e-mail addresses in profiles are graphics and are not links which can be clicked upon nor can they be copied and pasted as text. You'll have to mentally transfer the address to your e-mail composition page or address book to send the member a message. If a visual or other impairment makes this impossible, e-mail us at editor@EastHigh.org

2015 Reunion Dinner Report & Photos — Quarterly Class Dinners in Memphis
Class of 1955 Quarterly Dinner Gatherings!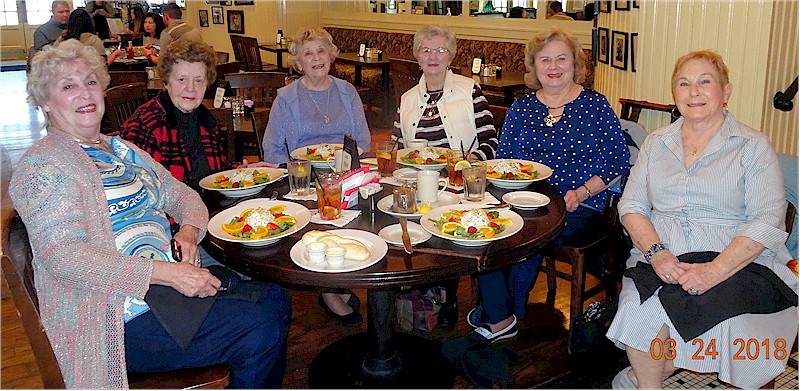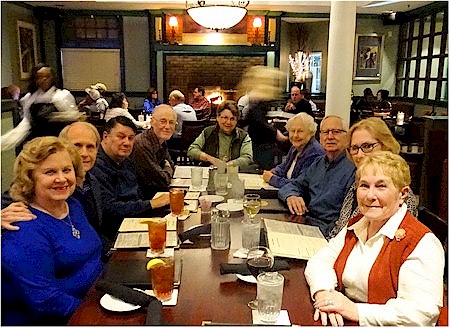 The East High Class of 1955 classmates, who live in the Memphis area, and sometimes a classmate from out of town as pictured above for the March, 2018 luncheon, have the opportunity to meet together with their spouses for Mustang dinner gatherings four times a year at various restaurants.
At the right, you see the November, 2017, gathering.
All members of the Class of 1955 are encouraged to attend!









On June 5th, 2015 the local '55 Mustang girls and guys met at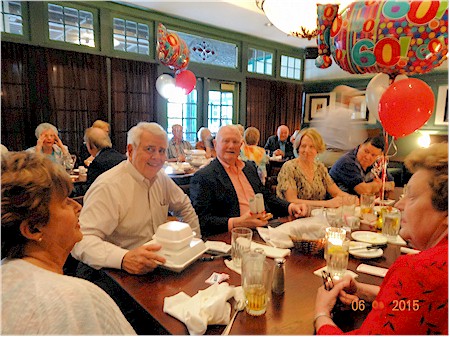 The Butcher Shop Steakhouse Restaurant on Germantown Road
and celebrated the 60th East High Anniversary since their graduation!
The Mustangs enjoyed visiting and reminiscing over the days at
East High School and are looking forward to more Mustang dinners!
Contact for information about future Class of 1955 dinner gatherings:
Mickey Ackerman English at

Photos of the 2015 60-Year Reunion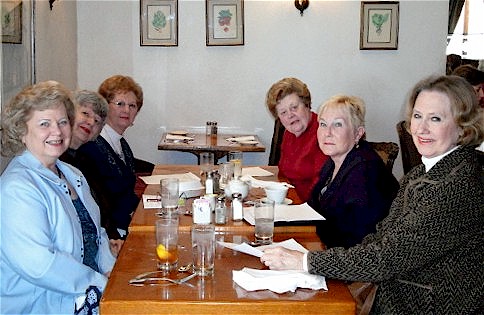 1955 Mustangs who want to come
for the Girls' Lunch Group
usually on 3rd Saturday each month
and/or
Guys and Girls Dinner every 3rd month
that includes their spouse or date
Contact: Mickey Ackermann English
For more information
contact:

The Class of 1955 has continuing lunches and dinners for class members. Seen here is the February, 2010 "Girls luncheon," with Sara, Lynn, Joyce, Norma, Mickey and Sue.

Click here or on picture above to see snapshots of the 50-year reunion
[last updated June 6, 2005]
EAST HIGH CLASS OF 1955 HOLDS 50TH REUNION
by Sara Hamer Chumney
June 6, 2005
East High School Class of 1955 celebrated their 50th Reunion the weekend of June 3-5th. More than 100 classmates and guests from twelve states, which included California, Texas, Florida, North Carolina, Georgia, Louisiana, Oklahoma and Pennsylvania, returned to Memphis for the first reunion since 1975. Sara Chumney and Allan Ledbetter worked for a year to locate classmates and all but six members of the class were found. Some of the members of the class had attended East High in sixth grade when it first opened in 1948.
The classmates met for the Friday night event at Jeanne and Henry Varnell's home overlooking the Mississippi River for BBQ and enjoyed the magnificent view of the setting sun on the river as they visited together and renewed their friendships.
Saturday morning was a golf game at Galloway Golf Course and East High School was opened for a classmate tour of their Alma Mater. Sara and Jim Chumney displayed colorful maroon and gray posters on school library tables with school history memobilia, pictures and seven Mustang Roundup school newspapers from the senior year. They provided a competitive school fun quiz for the "Smartest in the Class Award." A guided tour to view classrooms, the old gym locker room, school trophies, the nurse's room where one classmate met her husband, the cafeteria that was used recently in a movie, and a peep through the auditorium doors (that is under renovation) to see where they had been the first class to graduate on the auditorium stage fifty years ago renewed fond memories for the classmates. As one Mustang toured the school she recalled all the lost words of the original East High School Fight Song of the 1950s. At the end of the tour the group stepped out to see a classmate's restored 1955 Bel Air convertible.
Each classmate registered for the weekend was given a Welcome Packet with Memphis brochures for afternoon and free time site seeing. On Saturday evening The University of Memphis Holiday Inn Ballroom was the scene of the Reunion Dinner Dance. Red roses and miniature toy Mustangs decorated the dinner tables, banners and posters lined the walls and side tables displaying pendants, teacher and students pictures. A special poster recognized the 25 deceased members of the class with their individual class photo.
The dinner event began with a program featuring a DVD presentation created by Sara Chumney entitled "Memphis Memories 1954 -55" shown on a large screen. Many forgotten images of Memphis in 1955 and classmates' pictures were viewed as they listened to the music they all remembered. The production was enthusiastically received and at special request it was shown several times more during dinner.
The 1955 faculty members were invited for the event. Special recognition and gifts were presented by Pelda Stringer for the three 1955 faculty members present: George Toney (band teacher), Lilburne Vollmer (Secretarial Science teacher), and Katherine Hinds Smythe (English teacher). East High Foundation founder Charles McVean presented a framed #43 Football Jersey for retirement to classmate Jim Butler, who was "All Memphis Football Fullback in 1955." Tim Malkin announced humorous Award Certificates for classmates and Rene Koopman's Trio provided live dance music for the remainder of the evening.
Jack Rice hosted a lovely Brunch Sunday at The Woodlands Clubhouse for the classmates and guests before their departure from Memphis. Thanks was given to the Reunion Planning Committee Members: Allan and Toni Ledbetter, Jim and June Russell, Sara Chumney, Jeanne Varnell, Jack Rice, Laura Patteson, Mickey English, Joe Shearer, Carol Ann Rockett, Ethelda and Brant McKeever, and Tim Malkin for planning the weekend. Many suggested another reunion in five years.
---
Reunion Review
by the editor, The East High Alumni Page
June 6, 2005 - The Class of 1955 completed a very successful, well organized reunion yesterday with a well attended brunch. That followed a full weekend of activities, including a Friday evening reception overlooking the Mississippi River, a golf outing, tour of East High School, and a Saturday night dinner and dance. The gathering also included very interesting displays of memorabilia and a audio-video presentation of class members and memories.
Final counts of attendees were not immediately available, but it approximated the number who had registered in advance, 108 for the Saturday night event. About sixty of those attending the reunion were class members, out of a class of about 160. There are about 25 members of the class who are known to have died.
Special guests attending the festivities included three teachers who were members of the East High faculty during the tenure there of the class: Mrs. Lilburn Vollmer (Commercial Work), Ms. Katherine Hinds (English), and Mr. George Toney (Band).
Snapshots of the Friday night event were posted on The East High Alumni Page on Saturday. Pictures of the school tour were posted on Sunday. More photos are expected to be posted later in the week. Attendees with pictures they'd like to share by having them posted on The East High Alumni Page are encouraged to let us know at editor@EastHigh.org.
Our alumni page will also be happy to post reports of the reunion by class memebers should they wish to submit them.
---
*As information is made available to The East High Alumni Page

Return to The East High Alumni Home Page
Return to the Class of '55 Directory Page