The East High Alumni Page presents:

Reunion Plans and Reviews
Class of 1958
East High School, Memphis, Tennessee

Plans for & coverage of the Reunion of the East High Class of 1958 will be posted here.*

2018 60-Year Reunion Completed
[posted May 22, 2018] The 60-Year Reunion of the Class of 1958 has been completed. Infromation, narratives, and photos of the reunion are welcome on this page. Send them to
editor@EastHigh.org
[posted November 21, 2017]
Class of '58 reunion is scheduled for May 18-19, 2018.
More information as it becomes available.
---
---
Previous Reunions:
Snapshots from the Reunion Friday night event
(new photo added April 28, 2013)
Full size & resolution viewing and download now available!


The Class of 1959 plans a reunion weekend in April, 2013. Please contact a member of your reunion committee for information as The East High Alumni Page does not have many details.



---
---
---
---
[previously posted December 26, 2007]
SAVE THE DATES
APRIL 11-12, 2008
Memphis, Tennessee


The East High Class of '58's 50th Anniversary Reunion will take place Friday night, April 11 and Saturday night, April 12, 2008.

Please join us to celebrate the Class and the 50 years.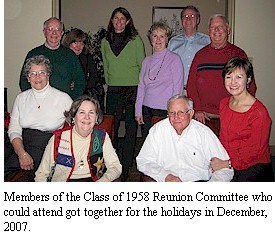 As of now the Reunion Committee is: Taylor Barbee, Bert Barnett, Ruth Ann Heitner Lagasse, John Jefferson, Eric Matheson, Carolyn Mullins Moffitt, Suzanne Ragsdale, Bill Routt, Ann Stuart Garner, Buddy Scott, Betsy Turnbull Grobmeyer and Lee Welch. Others who are here in Memphis may join us as we go forward in planning and preparation.

Friday night April 11 we will kick off the weekend at Bert and Carol Barnett's home. On Saturday night we will gather at the Memphis Country Club. Both nights will be designed for visiting and fun, with a minimum of formality.


Don't Wait. Register now!

Make your check for $100 per person to "EHS '58 Reunion" and mail it to Lee Welch, 515 Big Bell Loop, Hickory Withe, TN 38028.
Discount hotel rooms are being arranged. Details will go up on this website and will be sent to you be email as soon as they are complete.

Another most important matter: Your committee is hoping to locate all living classmates. If you have addresses for classmates, including email, please send them. And send your email address if you have one. We hope to be able to send you details by email but will use other means if you ask us to.

As a committee we have had fun with the early planning. Please let us hear from you and plan to join us April 11-12, 2008.



YOUR REUNION COMMITTEE

Reunion Contact

---

If you attended the Class of '57 reunion and would like to submit a story of the reunion, The East High Alumni Page would be pleased to receive and post it, subject to its normal right of review and editing. We will also accept your photographs of the reunion and post them here.
REUNION SUCCESS
[last updated September 27, 1998] - The East High School Class of 1958 has concluded a successful 40-year reunion. The turnout was as expected, about forty percent of the living class members. The two night reunion ended with dinner and entertainment at the Raquet Club of Memphis. As the location was Friday night, the ballroom at the club was decorated with memorabilia from the days at East. An ice sculpture of a mustang highlighted the buffet table. It appeared to an observer that the reunion was another successful event, but that was to be expected from the classy class of 1958.
[the following was posted September 25, 1998, 11pm] - An estimated more than 50 people kicked off the East High Class of 1958 40-year reunion tonight. The Corky's barbeque and drinks evening at Piano Memphis brought together friends from an East class described as "very close" during their high school years. Entertainment included a pianist providing soft background music and none other than Dewey Phillips presenting his Red Hot, and Blue show on WHBQ radio, via tape, of course.
As the last known major reunion of the year, the Class of '58 seems to be providing a fun filled end to the reunion season. Festivities continue Saturday night at the Raquet Club.
The East High Class of 1958's 40-Year Reunion is underway in Memphis tonight. As of today, expectations were that about 50 alumni from the class would be attending one or more of the events. That would be a 40% turnout of the graduating class (nine class members are known to be deceased). With spouses and guests, total attendance at the two day event is expected to be about 80 people.
---
*As information is made available to The East High Alumni Page

Return to The East High Alumni Home Page