A "mini-reunion" is scheduled for June 18, 2016. See the information at the
The monthly class dinners were discontinued for lack of attendance after several years of a good run.
---
Reports on Recent Past Dinners:

August, 2010 -
A very small group gathered and enjoyed the conversation and food to complete 9 years of our monthly class dinners. Given the lack of interest among a broader number of classmates, the monthly dinners, at least as now organized, are not likely to continue. The small core group of current attendees, who enjoy visiting with our fellow members of the Class of 1968, may meet informally periodically without announcement. Any member of the class is welcome to join us but probably would need to contact an one of the loyal dinner attendees who were showing up most every month.
July, 2010
- Another very nice little gathering, including one never-before-attended classmate and two guests made it a special evening. For all of you who don't attend our class dinners, we really do miss you.

June, 2010
- The organizer was thinking of asking folks if we should try to continue the monthly class dinners with such a consistently poor turnout. One again, however, this was a fun event, so he decided to keep his mouth shut. A few of the folks didn't leave until 9:35 p.m. The music was good and if the menu did not have the veriety or specialties of some of the other places we meet, it was good, at least my bacon, lettuce, tomoto sandwich on wheat bread was, and it was inexpensive. The pie was good, too. Best of all, of course, was the opportunity to visit with classmates.
To address the issue of poor turnout, it is thought that an anonomous on-line survey might give us an idea of what the problem is. If you live in the greater Memphis area and we have your e-mail address, look for an e-mail in the not too distant future asking why you don't attend class dinners, if you don't, or how we could improve them if you do.

May, 2010
- Another really fun gathering and another really small one. A lot of good conversation. We did talk a little about each deceased classmate, remembering something special about each one best we could. That lead to other mentions of our East High experiences, classes, teachers, and the like and it was really fun. Back when the montly dinners first started (first dinner was September, 2001), we did a lot more of that. Maybe we should get back to doing it again because it was both interesting and humorous. We could only wish more of you could have been there to enjoy it as we did.
Gosh, the
April 2010 class dinner
was fun! It was a small group but lively discussion ensued. It was great to see Lynn Malkin again. She hasn't been to Memphis in 3 years, and she says she's probably only been back to the city less than a handful of times since moving west in the late 1970s. The "locals" seemed to be in good spirits and it was just a great visit among classmates. If you weren't there, it is suggested you are missing out. Classmates, we miss you when you don't visit with us.
The
March, 2010 dinner
was small but special. Two alumni we haven't seen in a while attended. It was the first back at a class dinner for one of them who spent quite a lot of time in the hospitial over the past couple of years. It was good visiting with everyone who was there. Despite my verse and link to the "Young Girls" song in the dinner announcement, none of our young girl classmates joined us. It was mentioned that a number of those women who used to attend class dinners now meet together on a regular basis and that results in a lack of attendance at our class dinners since they either have recently or will shortly be getting together on their own. Good for them, bad for us.
Our
February, 2010 dinner
was good, with a couple of faces we hadn't seen recently at the dinners. We still haven't rebounded to the attendance levels we had for most of the first 6 1/2 years of our monthly dinners. We'll keep working at it and, of course, we could use your help (your attendance). At the dinner we discussed a possible "60th birthday" party or mini-reunion for sometime this year. Stay tuned. Or better yet, send in your suggestions.

The January, 2010 dinner
did not follow what we hoped was a trend for increasing attendance. We only had 7 folks join us, but it was a nice gathering.

It was really great
to see those few of you who came to the "class coffee" December 26. Thank you for making the effort to share part of the holidays with your classmates.


The November, 2009 dinner
continued a trend of increasing attendance. It was great to see some folks we haven't seen in several months. We still have a ways to go to equal our average attendance for the first 6 years or so of our monthly class dinners, but with your help we can meet and exceed those numbers ... and have more fun, too!


The October, 2009 dinner
was good fun. We had an out-of-town alumnus surprise us by joining us and the small group seemed to have a good time, despite the loud music and ambient noise. Those attending continued to express interest in continuing the monthly dinners despite the small turnouts. Don't miss out again, join us soon for our class activities.
Faculty Guest Program Financial Report:
[posted July 9, 2008]
As you may know, in the summer of 2007, due to a lack of turnout at the class dinners, I suspended then later terminated the Faculty Guest Program wherein I invited a faculty member to be our guest. This program was funded by anonymous donations from dinner attendees. At the time of the suspension, the fund had $53.28. After waiting to see if the dinner attendance would recover only to find the dinners themselves in jeopardy, I sent a check for $53.28 to the Class of '68 Reunion Committee on May 14, 2008, suggesting the money be used to (a) sponsor the faculty guest program itself or find another classmate to do so and use the money to continue the program or (b) incorporate the money into the Reunion fund to help pay for the 2008 or future reunions.
The faculty guest we had join us were delightful and it was great fun and rewarding to visit with them at the dinners. -- Ken Welch

Reunion!

It was wonderful to see and visit with each of you and your presence made for a great party! We feel confident that each of you share our thoughts about the others that were with us when we say we are thankful for and value your friendship.
More than 130 snapshots from the reunion have been posted (last update: August 4, 2003). If you have pictures of the reunion you'd like to share, contact us at editor@EastHigh.org.
The East High Class 1968 has concluded its 35-year reunion with a very successful party at the Racquet Club in Memphis. We have yet to formally review the attendance count, but the "gatekeepers" reported nearly a 100% attendance of those who had pre-registered and we had a few more join us. So we were in the 85 person range.
It appeared one of the highlights may have been the photographs -- once people realized that photographers had been made available, the "studio" seemed quite busy taking and printing photographs for couples and groups. We hope a lot of special memories were captured. We are very happy to have a 2003 group photo of the Class of '68.
We are especially thankful to those who made the extra effort, and went to the extra expense, to travel to Memphis from out of town in order to join us. We only regret we don't get to visit with you more often.
Don't stop now. Memphis area classmates, join us when you can for our monthly class dinners!
While this reunion is fresh in your mind, if you have any suggestions for future reunions, please let a member of your Reunion Committee know. While a lot of factors go into the decisions of the Committee, it will be happy to receive your ideas and to consider them. You may contact the Committee through this e-mail address (East68@gmail.com).
Active members of the Reunion Committee for the 35-year Reunion were:

Marsha Hunt Marascuilo
Rick Handwerker
Patty Crowl Burnett
Bill Holt
Betsy Reitz
Ken Welch
with very special thanks to Jessica Turnbull Buchignani's participation and invitation to use her wonderful home for our Friday night event,
and our appreciation to Linda Lovvorn Niell and her husband Barry (East '61) through whom the Racquet Club facilities were made available.
If you have photos or recollections of the reunion you would like to share by having them posted on The East High Alumni Page, please contact the alumni web page at
editor@EastHigh.org
.
The East High Class of 1968 began its 35-year reunion with a wonderful party Friday night. Fifty-nine people were in attendance at Jessica's beautiful house, with good food, some great oldies music in the background, but the best thing of all were the many friends getting to visit again. It's got to rate as an excellent reunion party.
The non-committee event of lunch across from East High and walking over to the campus turned out to have a small attendance, just as expected. However, it also turned out to be a very good event. City Schools were registering for summer school at East High so the doors were open and our group was given free range over most of the school. Once again, a lot of memories were resurrected. We met 2 or 3 graduates of East after our time, a policeman who graduated in '78, and two city school employees, one graduating in '93. The third was, if memory serves, a graduate of the 1980's.

There are some biography booklets still available.
Information on the June 18, 2016, mini-reunion is at the top of this page.

A report on the April 21, 2001, mini-reunion is follows, with reports on previous reunions thereafter.
MINI-REUNION SAID TO BE
ONE OF THE "BEST EVER"
[posted April 22, 2001] - "Best Ever" reunion?
Amid numerous positive comments about last night's Class of '68 mini-reunion was one classmate's comment that it was the "best ever." That might have been slightly over enthusiastic because the memory fades of past reunions. Or maybe it does rank among the higher evaluations on the fun scale. This writer cannot be a judge, since he missed the other two that have a consensus of being the best: the 10-year reunion and the Friday night event of the 20th. Regardless, it was great fun last night to see and visit with a lot of old and good friends.
The night started with a ominous sign. The private room reserved for the event was closed by the restaurant management because the overhead fan fell out of the ceiling. It was hanging by electrical wires. Restaurant management reported that mishap occurred at 6pm, too late to get an electrician to fix it and too dangerous to allow guests into the room. So the restaurant staff squeezed tables into a corner of the restaurant and designated it ours. It was about half the size of the private room and half the size of what would have been ideal, but as one alumnus said, it's not the place, it's the people. We did have to fight to be heard over the restaurant's music and ambient noise, and this writer's voice was feeling the strain later in the evening.
Attendance was good for the get together at the Half Shell restaurant, with the special surprise of the presence of Lynn McCarley (Rebecca), who just happened to be in town from her home in New York this weekend, and George Nash, who drove in from Jackson, Mississippi, that evening to spend some time with us. Jack Brakefield coming in from south Alabama was a treat. Although it wasn't a surprise, because the date of the event was firmly established because he was going to be in town, Maynard Robinson's joining us from California was great fun. Of course, the gathering wouldn't have been a success without the attendance of our Memphis based class members.
At least 22 classmates were at the mini-reunion, two or three dates/spouses, and two especially invited guests from other classes, and one friend who attended with the Class of '68 for the 7th, 8th, and 9th grades. Two others checked in by telephone, Little Bit Kinnett and Mike Ronsiek of Louisiana, though no longer married, both called at different times and engaged in prolonged chat with various members of the class. Mike expressed surprised at the turn out and said if he'd known so many class members were going to be here, he would have made the drive up. Perhaps we can look forward to his joining us next time.
It was especially good to see Pam Pennington and Patt Duncan feeling well enough to come to the mini-reunion, since both are battling illnesses.
A newsletter was available for all attendees catching them up with some of the news of classmates, it was news previously published on The East High Alumni Page. The newsletter also listed some of those who sent greetings even though they could not attend.
With apologies to any classmates whose names may have failed to have been recorded, the following is an attempt at a list of the names (as we knew them at school) of East alumni who joined us.

Jack Brakefield
Patty Crowl
Pat Davis
Patt Duncan
Janice Floyd
David Harsh
Curt Healy
Lucy Lathram
Wes Lawson
Carole Marshall
Rebecca Lynn McCarley
Frank Mitchell
George Nash


Pam Pennington
Billy Pierce
Betsy Reitz
Maynard Robinson
Diane Rudner
Patty Taylor
Jessica Turnbull
Cynthia Wooten
Bill Yerian
Lester Goldsmith (Class of '70)
Beth Gooch (Class of '75)
James Wax (associated with the Class of '68)
It was a night of great fun.
I sure hope we can see each other again, soon.
report submitted by: Ken Welch
P.S. Happy Birthday, you know who you are.

A report about the June, 1999, mini-reunion is below, followed by a report on the 1998 30-year reunion.
June 1999 Mini-Reunion a Mini-Success
[Last updated June 20, 1999] - A Class Party and Mini-Reunion for the Class of 1968 was held the evening of June 19, 1999, hosted by a class member at the clubhouse of a multi-family housing complex in East Memphis.
About 150 invitations were sent by mail, and a few by e-mail to all those for which the class has valid addresses. Of course, a few of the addresses thought to be valid a year ago for the 30 year reunion were no longer valid.
The best count The East High Alumni Page has is that 26 people attended the party. Chips and dip, a vegetable plate with dip, and a Corky's barbecue dinner were provided, along with "East High" oatmeal cookies. A copy of the Class of 1968 section of The East High Alumni Page was circulated, as was an official and updated copy of the Class Reunion committee's address list. The '68 Annual, along with a couple of others from classes close to '68 were circulated. Also making the rounds were photographs from the 30 year reunion held in June, 1998.
Three guests graciously volunteered to bring additional food, Marsha Hunt Marascuilo, Janis Floyd Steinhagen, and Lester Goldsmith ('70). Others volunteered to help but were assured by the host that it was unnecessary.
Although this was a party hosted by an individual classmate for which no guest was expected to incur any cost whatsoever, one of the guests instigated a collection of money to help defray the expenses. Many graciously donated, some apparently extremely graciously. The host embarrassingly acknowledges the kindness of the guests.
The party was without RSVP requirements. The host thought a practical prediction of attendance would be about 20, that 30 would be quite nice, and that 40 or more would be an unqualified success. The count of 26, including the host, seemed to be a sufficient number for a fun visit. Sixteen of the attendees were Class of '68 members, four were members of other East classes who attended either as a special guest of the host or in the company of an '68 graduate.
"The attendance was right in the middle where you could be pleased or concerned about the turnout. Considering the kind expressions of those who attended, I think we can call this a good mini-reunion, though we did miss a lot of classmates," remarked host Ken Welch. "These are fun folks who obviously remember their high school friendships and want to keep them alive. Of course, most all of our classmates are fun folks, but some had other engagements or live out of town."
While it is believed no one traveled from out of town for the mini-reunion, and none were expected to do so, the party had one classmate who lives in Pennsylvania attend. "It was great to see Patsy Sewel Gruenberg and her husband, even more so since she was not able to come to our 30 year reunion last summer," the host commented about the party's out of town guests.
Everyone expressed appreciation for the mini-reunion idea, as did many at last year's 30 year reunion. It remains to be seen if the attendees who gathered Saturday night are a special group with this interest or if others will attend future mini-reunions regularly.
The host continued to express his belief that a mini-reunion every six months would be a good schedule, although along the lines proposed last year in which the party is less complex because it might be held at a restaurant.
The idea of mini-reunions was most recently brought to the attention of class members based on the Class of 1975's mini-reunion efforts.
The source for this report was a direct participant in the organization of the event, therefore subject to bias.

1998 Reunion


FUN PEOPLE, FUN TIMES, THEN AND NOW
The 30-Year Reunion
— Photos —

[last updated June 7, 1998] - The East High School Class of 1968 held its 30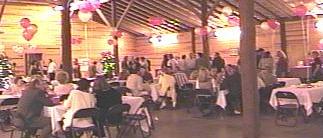 Year Reunion June 6, 1998. Members of the class, making up a little more than half those in attendance, along with spouses/dates, and five faculty members who taught at East during the tenure of the class totaled nearly 100 people. The primary event was a casual barbecue dinner at the Hill's Barn party facility in Davies Plantation. The Class once again demonstrated it consisted of fun people who create fun times, both while in high school and today.
The Reunion Committee had decorated the room with red and grey balloons and items of other school colors creating a very nice looking environment. A disc jockey played hit records from the members' high school era and Pig 'n Whistle restaurant provided a barbecue meal. As expected, the music was mostly ignored because the focus was on each other. The din of voices in conversation never lulled. The Reunion Committee gave away a print of a watercolor by artist Layfayette Ragsdale depicting the front of East High School.
The guests of honor, the faculty members who taught members of the class, included Barbara Olds, Elizabeth Rashed (who we knew as Elizabeth Regan), Helen Rice, Frances Hoback, and Margaret Taylor. Barbara Olds first year as a teacher (English) was 1967-68, the year the Class of 1968 were seniors, and she is retiring this year after many years as a principal in the Memphis City School system. So her attendance completed the circle of beginning with these class members and ending with them. Elizabeth Rashed just retired from teaching (English) within the last 2 or 3 years, having taught at East for all but two years of her 30+ year career. Helen Rice was a very welcome guest at the reunion, having not only been the Physical Education teacher for many of the girls in junior high, but having been the home room teacher for a section of the Class of '68. Unlike the rotation that occurred for most students between junior high and senior high, Miss Jones remained the home room teacher for the same group of students for the entire 6 years. Frances Hoback was also a girl's physical education teacher from about 1964 to 1968. Margaret Taylor, who taught math to many members of the class, retired a few years ago as principal at Grahamwood Elementary.
Earlier in the day about 25 people gathered at East for a tour organized by The East High Alumni Page in coordination with the Reunion Committee. Here, too, many expressions of delight were heard after the informal roam-around-the-school-as-you-like event. Favorite places included the mass gathering areas: the auditorium, the gym, the library, and of course, the beautiful lobby. A few alumni brought children to show them where they went to school, which locker was theirs, etc. Some of the old trophies dating back to the earlier years of East were on display along with the newer ones and the school looked great. One favorite place was the Annex, where so many had homerooms and classes in junior high. While closed to students, the Annex is a storage area and offices for the building engineers.
The Class of 1968 30 Year Reunion appears to have been highly successful in every respect for those who attended. There was a lot of comment about more frequent mini-reunions and the idea seemed to be well received. Plans for any such mini-reunion most likely will be communicated by word of mouth rather than mailings, but they should also be posted on this Web site.
The many hours of planning and work by the core group making up the Reunion Committee seems to have paid the benefits handsomely once again. It appeared the party was a major success measured by the number of people expressing pleasure with the event.
To contact the Reunion Committee: E-mail: East68@gmail.com
To contact The East High Alumni Page: editor@EastHigh.org
Members of the Class of 1968 Reunion Committee for the 1998 30-year reunion included
Linda Lovvorn Niell
Marsha Hunt Marascuilo
Patty Crowl Burnett
Rick Handwerker
Bill Holt

"Missing"
list valid as of May 22, 2018

The reunion committee's address list does not have valid mailing addresses for the following classmates. If your name is on this list or if you know contact information for someone on this list, please send an e-mail to
East68@gmail.com
with the appropriate postal service and e-mail addresses.
Newly added names are in bold.
A separate "no-email-address" list is below this list.
Barnard,

Jeanne


Beecham Hughey, Judy
Farris, Donald
Gardner, James
Hallock Yale, Joyce
Haynes, Larry
Hunter, Gail
Isbell, Ronnie
Kimberly, Ruth Ann
Lane Weems, Juanita
Langford, Beverly
Leggett, Garland
Newman, Steve


Neill Baldwin, Linda


Ortasic Young, Diana
Overstreet, Deborah
Powell, Robert Lee
Reeves, Lester M.




Robinson, Don T.
Scott, Barbara


Searcy Hudson,

Shelia
Shoffner Brittenum, Jana'
Snodgrass, Wayne T.
Starks, Robert C.


Stephens, Richard L


Stinson, Dennis
Stovall, Helen
Thornton, Anita
Watkins, Mike
Watson, William
Weatherly Farmer, Susan
West, Susan
Weston, Steve


Wilbur Ward, Judy


Wilkinson Tatum, Linda



No E-Mail Address List

As of February 9, 2018, it appears we have no validated e-mail address for the following people. We would like to be able to contact you with class information. We have a 50-year reunion upcoming. If you would, please consider sending your e-mail address to us at East68@gmail.com right now!
This list will be updated periodically as the 50-year reunion approaches in 2018. Check back often as names may be added!

Bacon, Mackie
Beecham Hughey, Judy
Bradley, Charles
Dowling, Nancy
Farris, Donald
Gardner, James
Gragg, Frances
Hallock Yale, Joyce
Haynes, Larry
Hunter, Gail
Isbell, Ronnie
Kimberly, Ruth Ann
Knous Faris, Barbara
Lane Weems, Juanita
Langford, Beverly
Leggett, Garland
Lipow, Hershel
Lovvorn Niell, Linda
Maden, Martha
Malkin Armanino, Lynn
Neill Baldwin, Linda
Newman, Steve
Overstreet, Deborah
Paulus Conner, Tina
Pierce, Bill
Powell, Robert Lee

Reeves, Lester M.
Robinson, Don T.
Rowe Warren, Phyllis
Scott, Barbara
Shepherd, Cybill
Shoffner Brittenum, Jana
Sikes, James
Smith Jordan, Julie
Snodgrass, Wayne T.
Starks, Robert C.
Stein Kabakoff, Diana Jo
Stephens, Richard L
Stinson, Dennis
Stovall, Helen
Taylor Cowell, Patti
Thornton, Anita
Watson, William
Weatherley Farmer, Susan
West Wyant , Susan
Weston, Steve
Wilbur Ward, Judy
Wilkinson Tatum, Linda
Witherspoon, Eric H

Please note that some services block our bulk e-mail messages (AOL for one, sometimes Microsoft addresses) so our routine messages don't get through. However, we will make extra attempts to see to it that messages about our 50-year reunion do not get blocked.