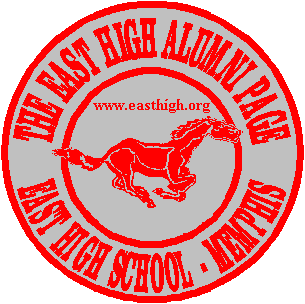 ---
ABOUT
THE EAST HIGH ALUMNI PAGE
an independent publication
---
| General Information | Technical Information || Comments | Independence |

"What's New" has it's own page.


The East High Alumni Page
founded 1996
continuously on-line on the Internet since January 19, 1996
Editor: Ken Welch ('68)
Continuing Article Contributors: Glen Stewart ('62), Beth Gooch ('75)

Special Patrons: Clement Turner ('68), Deborah Oestreicher ('70)

The East High Alumni Page operates a set of policies, some of which are published on the web site while others may not be so published.

General History and Information - The idea for The East High Alumni Page was generated out of a discussion about how the Internet's World Wide Web could appeal to people for specific worthwhile purposes. Those involved in the discussion were very good and long time friends:
the late Charlie Willis (Class of 1968)
James Wax (associated with the Class of '68), attended East approximately 1962 -1965,
Nora Willis Wax, Class of 1972
Barry Willis, Class of 1974
Ken Welch, Class of 1968.
As it happened, Ken Welch was an independent networking consultant who had experience with the World Wide Web and the documents that appear on it. After two or three weeks had passed, he decided to create The East High Alumni Page and within a few days the page was on the World Wide Web. The debut occurred sometime in the second or third week of January, 1996. Our earliest saved page is dated January 19, 1996, so that's the date we recognize as our first day on-line. Subsequent documentation seems to confirm that date as the likely date it went on line. You can see what the fledgling web site looked like on January 27, 1996 here.

Originally The East High Alumni Page utilized recognized HTML standards. As Microsoft's web browser became popular, we adopted some of its non-standard extensions and some of Netscape's non-standard extensions. However, those we adopted almost always worked on the other browsers or we would not use them. Some of the non-standard extensions remain but they still work. Newly designed pages almost always conform to HTML v. 4 Standards. All of the East alumni pages are designed with a graphical browser in mind. There are known elements which would not be available to those accessing the pages only in text form. We believe most modern World Wide Web browsers will display the pages satisfactorily. We have viewed many of the pages with current versions Firefox, Netscape, Internet Explorer, and Opera.

We salute the first 20 or so people who found The East High Alumni Page on their own early in 1996, either through Web search engines or perhaps by finding a link included in The East High home page. After that, there was some publicity designed to assist fellow alumni in finding and participating in our endeavor. If you found our page after the first 20 or so people did and did so on your own, we credit you, too, with being a savvy web surfer.
Technical Information - Back when The East High Alumni Page began the dominant screen resolution was 640 x 480 pixels and the pages were designed for that. Today 1024 x 768 and higher resolutions are are in the majority. Generally, however, we design for 800 x 600, since that is still a common resolution.
Comments welcome! - Please bring your comments, suggestions, corrections, and any problems you experience using these Web pages to our attention by e-mail to editor@EastHigh.org.
For your pleasure - Most of all, fellow alumni, former students, faculty and staff, please browse these pages, find friends, both new and old, and enjoy communicating with them. Don't forget to send in your profile today if you haven't done so.
Notice of Independence This and linked "East High School Alumni Page" World Wide Web pages are produced independently of East High School and neither East High School nor the Shelby County Schools are responsible for their content. The East High Alumni Page web pages are designed and maintained by independent entities.
There is no representation by The East High Alumni Page, its author(s), editor(s), publisher(s), or any other party responsible for the operation or presentation of these web pages, as to the validity of personal information contained herein. Providers of such information warrant it is accurate and agree to hold harmless, defend, and to indemnify The East High Alumni Page, its author(s), editor(s), publisher(s), or any other party responsible for the operation or presentation of these web pages, against claims for any damages resulting from information posted on these pages. Acceptance of such information by those responsible for these web pages is based on the providers' representations of accuracy and further use and/or redistribution of such is solely at the user's/redistributor's risk. The East High Alumni Page reserves the right to edit or decline to publish profiles and other submissions at its discretion.
Use without permission of photographs copyrighted by K. L. Welch is prohibited. All rights reserved.

Return to The East High Alumni Home Page