The East High School
Alma Mater
as performed May 23, 1967

by The East High Choir


Janis Floyd ('68)

, pianist


Rose Gillespie (Faculty)

, director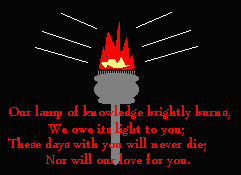 The East High School
Alma Mater
as performed Nov. 20, 2007


by The East High Choir


Jeffery Murdock (Faculty)


pianist and director


The East High School Alma Mater
Words written in 1950 by East student Shirley Wilkes ('51)

How dear to all our memories


And fondest dreams we'll share




Are days we've spent within your halls,




With friends who tarried there.




Our hearts sing out to thee,




Alma Mater, to the sky;




We'll always think of you and love you,




Dear old East High.





We love and cherish thee




And you'll always find us true,




For all you've meant to us these years




In memory lives anew.




Our lamp of knowledge brightly burns,




we owe its light to you;




These days with you will never die




Nor will our love for you.




Text source:
Student Handbook for East High School
Published by the Student Council
circa 1967
Wanted: sheet music of early version


Do you have the sheet music for the version of the East High Alma Mater as it was performed in the 1950s and 1960s?
There is a distinct difference in the melody (see below) as performed today and as it was performed then. The East High Choir Director and the editor of these pages both would like to have the sheet music as the Alma Mater was performed in the early years. If you have that sheet music or know who does, please contact
editor@EastHigh.org
*The melody for the East High Alma Mater is that of the hymn "Lead On, O King Eternal." According to the 1967 East High band director and the 2007 East High choir director and that is what they believe it has always been. However, the performance of the two versions above (1967 and 2007), seem to be arranged differently or otherwise altered such that it is easy to think they are sung to different melodies..