The East High Alumni Page presents:
The Architecture of East High School
Everett D. Woods, Architect
Robert E. Brown, Associate

The school grandly sits on top of a hill at Poplar and Holmes, looking from a distance more like a small, wealthy college campus than a high school. -- The Commercial Appeal, 1982

East High School's heritage is apparent when you enter the front door. Marble and rich-toned wood is everywhere. The ceiling is high, the french-styled windows large, the mint-green hallways clean. The Commercial Appeal, 1982

In the secion of their book Memphis An Architectural Guide, Eugene J. Johnson and Robert D. Russell, Jr., write about East High and its architect Everett D. Woods:
East High was built to accommodate the eastward expansion of the city that burgeoned immediately after World War II, and to house the new school population in an architectural grandeur appropriate to the children of the well-to-do. Woods must have been thinking not only of earlier Memphis schools that were large in scale and classical in style, such as Memphis Technical High School, but also of much grander places, such as Blenheim Palace. The plan is certainly eighteenth-century baroque, with a strong centerpiece flanked by long wings that terminate in pavilions not quite as striking as the main frontispiece.
The building is highly visible from all four sides. Woods invented facades for the east and west which are equal to each other, but subordinate to the main south front. On the north, however, which was the least important of all, he expended relatively little effort. He achieved his effect of grandeur by gluing large classical members onto a simple structure with flat brick walls and large metal sash windows. The stone detailing--particularly those pediments that raise their heads over the utilitarian roof to challenge the sky--gives the flat silhouette and walls a character that belies the plain building beneath. Some of the ornament, closeup, is far from lacking in elegance, particularly the shallow reliefs of urns and swags over the secondary doorways of the south front.
(Johnson, Eugene J. and Russell, Robert D, Jr., Memphis An Architectural Guide, The Univeristy of Tennessee Press, 1990, pp. 305-306.

If anyone has a photo of, or knows how we can find a photo of, Architect Everett D. Woods, please contact editor@EastHigh.org.

East High School
Designed for 18 elementary classrooms, 10 junior high classrooms, and 15 senior high classrooms
Cafeteria designed to seat 500
Design dimensions: 443 ft. long, 370 ft. front to back, with a "huge gymnasium"
Construction of the school approved January 29, 1946
Construction began in July, 1946
Construction contract signed September, 5, 1946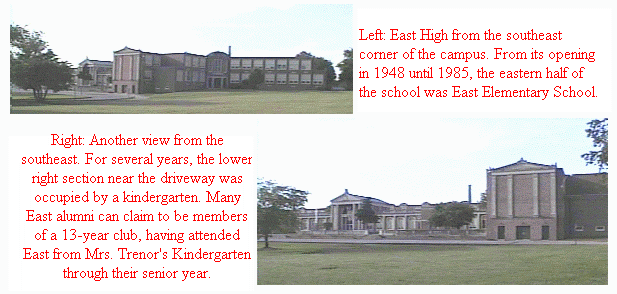 The original plans were for the school to accommodate 1500 students, but by the time it opened school officials said it would accommodate 2000
On August 20, 1948, the school board announced the new name for the facility: East High School. See What's in a name?
By mid September, 1948, as classes were underway, construction continued with the school being described as 85 to 90% complete.
Construction costs of the school were kept secret until after the school opened. The cost of East High School: $2,485,397.07

By 1951, the school was overcrowded with an estimated 2100 students. Bids taken for a 9-room addition, the Annex. The annex was built for $91,786. Classes were discontinued in the Annex about 1985 and the structure was demolished in March, 2003.
The 1349 seat auditorium, dropped from the original construction plan to save money, was opened in 1954
About 1960, the senior high Physical Education dressing room was built for $43,855

1976 A stand-alone building is completed immediately north of the original building (across from the faculty parking lot), housing East VoTech (East Career and Technological Center), a vocational and technical class facility.
In 1984, another major stand-alone building added to the campus north of the original school attached to and west of the vocational building, housing computer, engineering and health science classrooms and laboratories, as East becomes an optional school for those areas.
1988 A mustic video was shot in the hallways of the original building, see it at youtube

1992 East is air conditioned
1997 The East High campus is designated for the development of a "prototype" park complex with 4 soccer fields, a softball field, baseball diamond, fitness trail, track, and improvements to the existing football field
2005 A $14.5-million renovation begins, completion expected in 2007. Click here to see the August 1, 2007, Mustang Roundup - Alumni Edition for details.

In 2006, the two newer buildings north of the main school building were designated a separate school, the East Career and Technological Center
Everett D. Woods, East's architect - Although the book Memphis An Architectural Guide is not a chronological "history" of Memphis architecture, one can derive some sense of Everett D. Woods' work around the city. He worked on a number of mansions around town, but two major landmarks for which he was chief architect were East High School and Poplar Plaza shopping center.
Mr. Woods appears to be among those honored by the book as one of several "wonderful architects of the first half of this century."
Everett D. Woods was the half-brother of Neander Montgomery Woods, Jr., an architect who designed some "memorable" houses in Memphis during the 1909-1911 period before moving to Connecticut. Neander Woods was the son of the minister at Second Presbyterian Church, an interesting tidbit of information since that church was associated with East for a period when baccalaureate services for seniors were held there. In addition, a number of students were members of the church, at least in the 1960's. George Mahan apprenticed under Neander Woods, and Everett Woods later worked with Mahan on many projects.
Memphis An Architectural Guide references Everett D. Woods 22 times. He is listed as an associate architect on 14 projects, most with George Mahan, Jr. being the chief architect. Woods left the Mahan organization to work on his own in the late 1930's. The designs with which Mr. Woods was involved range from stately private homes, to public housing, to school buildings to a shopping center.
Three very notable projects for which Everett D. Woods is credited as chief architect are East High, of course, the city's (and one of the nation's) first shopping centers, Poplar Plaza, and the private home that is now the headquarters of Harrah's Corporation on Cherry Road just south of Park Avenue. Woods is also listed as the architect for Scates Hall at the University of Memphis.
Some of Everett D. Woods projects include:
1921 Scates Hall, University of Memphis, chief architect
1927-29 Dr. W.L. Howard House, 91 West Chickasaw Parkway, associate architect
1927-28 Horace H. Twiford House, 550 East Parkway South, associate architect
1927-28 Henry C. Nall House, 2230 North Parkway, associate architect
1927-30 James Edward Stark House,1779 Central Ave., associate architect
1927-28 Mrs. Frank M Crump House, 4030 Poplar, associate architect
1928-31 Second Clyde Van Fossen House, 2925 Natchez Lane (Chickasaw Gardens) associate architect
1929-30 Dr. D. Harbert Anthony House, 2968 Iroquois Rd. (Chickasaw Gardens), associate architect
1929 Second John Sneed Williams, Sr. House, 2269 Poplar, associate architect
1931-32 J. Everett Pidgeon House, 4202 White Oaks Rd., associate architect
1933 Nellie Pidgeon House, 4275 Nellwood Rd., associate architect
1935-38 Lauderdale Courts public housing, 234-274 N. Lauderdale St., associate architect
1935-38 Dixie Homes public housing, 940-990 Poplar Ave., associate architect
1936 J.S. Speed House, Morningside Park, in association with George Mahan
1937 Ramelle Van Vleet King House, 3481 North Central Park, associate architect
1938 Harrah's Entertainment Corporate Headquaters, 1023 Cherry Rd. (formerly the Everett Cook House), chief architect
1939 Manning Hall, University of Memphis, associate architect
1946 46-48 East High School, 3206 Poplar Avenue, chief architect
1948 West Tennessee Tuberculosis Hospital, in association with another architectual firm
1949 Poplar Plaza, Poplar and Highland, chief architect
1950 A wing at Brooks Art Museum, which was replaced by new construction in the 1980's.

Sources:
Eugene J. Johnson and Robert D. Russell, Jr., Memphis An Architectural Guide

N. Muse, grandchild of Everett D. Woods
All photographs copyright, 1998, K. L. Welch. All rights reserved.


Return to The East High Alumni Home Page