The East High Alumni Page editor's note: George Griesbeck (East High Prinicipal 1964-1972), East High School's second principal, died October 12, 2010. At the visitation, the family shared a recent magazine interview with Mr. Griesbeck in which he describes his early years in Memphis at the CBC High School. I believe those of us who were pupils or fellow faculty members at East during Mr. Griesbeck's term as principal at East High will find it very interesting to learn more about the man as well as a little history of what a Memphis school was like in the 1930s. I appreciate CBHS for granting permission to reprint the article here. All of the text and most of the photographs are included in this version.


From:

Purple & Gold

- a magazine for Christian Brothers High School alumni, family, and friends
Fall, 2010

Life on Adams: George Griesbeck
George Griesbeck: Alum, Teacher, Friend


Sonny Gowen (CBC '39) and Jim McWillie (CBC '33) gave us in the winter 2006 issue of the Purple and Gold great vignettes of life as students at 612 Adams, the fi rst home of Christian Brothers in Memphis from 1871 to 1940. Now we have the insights of Joseph George Griesbeck, Jr., CBC Class of 1935, who, following college work at Southwestern (now Rhodes College), answered the call from his former Principal/Director at CBC, Brother I. Francis McEvoy, F.S.C., to come on board as a faculty member. George taught on Adams until 1940 when the school moved to the Parkway location. He joined forces on Adams with the other lay teachers at CBC: Walton Crosley, Captain William Harrison (band director) and Julius Laurenzi. I enjoyed great visits with George and his wife in their home this past summer. I had met him in the fall of 1967 just before I completed the scholasticate, the Brothers' college training program. I had the privilege of observing classes at East High School taught by the likes of revered teacher of English, Margaret Said. George was one of East High's legendary principals. He was gracious and opened to me the classes to visit where I saw great teaching and got a lifetime of encouragement in that noble profession. -- Brother Joel William McGraw, F.S.C.


From the view of an alum turned CBC teacher, Joseph George Griesbeck, Jr., CBC Class of 1935

As a student, George Griesbeck made good grades. He came to CBC from Immaculate Conception Grade School, operated by the Sisters of Mercy. He recalls fondly Sister Martina, "who could run a school with a long handled bell and keep things in order." The upper stories of the building had just become Catholic High School, a co-ed high school that would later become an all-boy school and move to McLean Street. The girls would remain at Immaculate Conception under that name; today it is the last of the parish high schools in the state.

George did well in his studies, a "good boy" by his estimation, and a member of the football and wrestling teams. In those days, George lived near Lamar and Cleveland, a good five miles of walking both to and from school. Only five or six boys in the school of 200 had cars. Austin McGee was one of those five driving a car. George's dad, Joseph George Griesbeck, Sr., had graduated from the Brothers in 1909, and George's younger brother Charles followed him at CBC. (Charles, who died July 4, 2010, would join the Griesbeck Accounting Firm of which his dad was a founding partner.)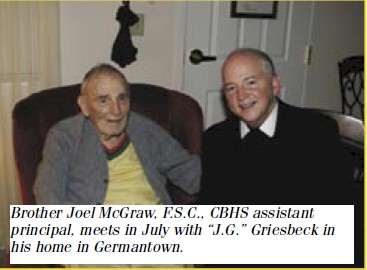 From their home on Rayburn St., and later on Minna Place near Lamar and Bellevue, George and his brother would carry their lunches wrapped in newspaper tied with string and his one or two books and head for 612 Adams. When he entered the west side door of the school he would see the rows of nails on the wooden runner on the wall, pierce his lunch paper through the nail, put his coat on top, followed by his cap. "That was our locker in those days," he said. The usual beverage for lunch was water from the fountains located outside and attached to the building under a kind of brick archway. This archway was the scene, also, of class photos. A sandwich could also be purchased in later years in the lunchroom (really a "shack" west of the locker room) operated by Mrs. Rubel. Tuition per semester was $25 at CBC in those years. It was paid to the Business Manager, Mr. C.M. "Pops" Miller, in his office just to the right of the front entrance on Adams. The student population was mostly Catholic with boys of other religions as well, particularly the Jewish in those days. School started after Labor Day and ran until early June.

Classrooms were spartan, sometimes without window shades for the one or two windows in the room, shades that would have been drawn when the girls in juvenile detention east of the school sometimes made improper displays of themselves at their cell windows and the boys in Brother Joachim Michael's class would have to put their heads down on the desks to maintain custody of the eyes! The Brothers' teaching desks were on platforms that came out from the wall, and so the Brother could reach all of the blackboard surface attached to the wall. One rather portly (unnamed) Brother told George's history class one day early in the term, "Boys, if I fall off that thing, you had better call St. Joseph Hospital to come and get me!" The whole building, for that matter, was spartan. It was built as the Memphis Female Academy around 1850, and by the late 1930's, it was pretty tired. Brother Emery called it "a dump." "It would have to have been improved a bit to call it that. But it was kept clean," George commented.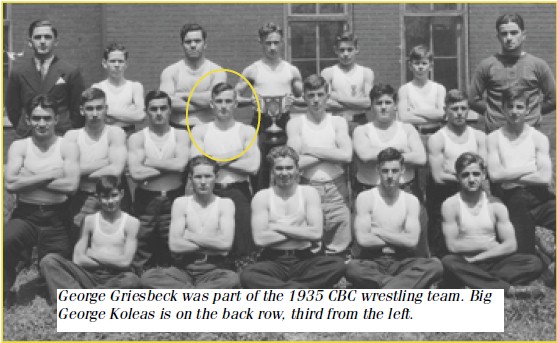 Landscaping at CBC meant dirt and some grass. "And during football practice we ate much of that dirt!" said George. The chapel was located upstairs in the "newer" building and the windows faced Adams. It was the Brothers' chapel and also served as the school chapel. Dominicans from St. Peter's were the ordinary chaplains for the school. The Brothers lived on the top two floors of the original building, "and that area was off limits to all but the Brothers," said George. George remembers also the "monkey box" at the foot of the stairs near the west entrance that held the balls and bats, etc. for the lunch period games. It was on that box that miscreants would be sent to sit and take the ridicule of their classmates as they passed by them. "We might need a resurgence of that type of penance these days in school" commented George the afternoon of our visit. "Good boys did not have to sit on that thing. I never did!" he said.

They really did not have much homework in those days. "Well, we had some," said George. "We had to take home a book or two. I think the Brothers collaborated upstairs and decided who would give homework and tests on certain days so we would not get overloaded, or underworked, for that matter. I know that when I was teaching there later that we gathered in the Brothers' Common Room on the top floor and would bat around that type of discussion on Sundays, especially during exam weeks."

Wrestling and football were George's co-curriculars. Larry Lispe came to CBC in 1932 as head football coach, following Larry Bettencourt, and John Illia from St. Mary's in California. Both of these men were All-Americans who played for Clarence Saunders' "Tigers" professional team in Memphis. George "Greek" Johnson coached wrestling and brought CBC to seven straight Prep School Wrestling Championships from 1929-1933. The locker room for all sports was in a separate building, formerly a barn or carriage house, that had the chemistry/physics lab on the top floor. The bottom floor, surfaced in dirt according to CBC boys, was the locker room, with a cistern inside for water and one light and one shower head. "And when big Greek George Koleas was showering in there no one else could get in! (He weighed in about 220 pounds and the rest of us were around 150 in those days!) The shower was that small!" said George.



Two-a-day football practices in that season meant morning practice, then we would have to pull off our uniforms and literally stand them along the wall of the locker room, and there they would dry out and be ready for the afternoon practice. George noted that CBC played Central, Tech, Humes, Southside, the newly-opened Treadwell, and Catholic High. He played in one of the very first games at Crump Stadium. "That field was built up with cinders from Central's boiler over the years. I remember going down the steps to the locker room from the field where years later Russell Vollmer missed a step and fell the rest of the way." Sturla Canale, father of Dr. Terry Canale, was one of the football coaches of George. Sturla had graduated from Catholic High, gone on to Notre Dame and when he came home on breaks would practice with CBC, eventually becoming the football coach.



In wrestling, they practiced at the Catholic Club. Dressed out only in trunks, the best squad was called, "˜The Naked Five'. George recalls that sometimes after wrestling practice, they would scrimmage with the four-man basketball team. "Many years CBC was the "˜low man on the totem pole' in sports because of our small numbers. But pride kept us going and working hard to win. We'd stick in there!" he said.

At CBC there was also an outdoor one-wall handball court where stalwart Larry Sutton beat everyone in the game. That wall was the backdrop for many school photos. Baseball was also played at CBC. George's dad had played on the team as a student. There was also boxing in which Breen Bland of the Class of 1933 was one of the stalwarts in that sport. The Brothers had introduced soccer to CBC on Adams. Brother Hilary Bernard was one of the favorite soccer coaches. He had been raised in St. Louis where soccer was very popular. "He was left footed and boy could he kick the ball with that foot!" In the CBHS history hallway hangs a photo of the father of Basil and Breen Bland in his soccer uniform with his team.

There also were the parades, like the Armistice Day Parade, when the school marched either in front of, or behind the band, and the boys wore their CBC arm bands and Purple and Gold parade caps.

George Griesbeck graduated in 1935 and attended Southwestern for about a year and a half, and then was recruited by Brother I. Francis to come back over to CBC and do some teaching at his alma mater. (The nickname "Snowshoes" or "Snowy" was given by the boys to Brother Francis when, on one wintry day at recess, Brother Francis went out to the soccer field to test the snow on the ground to see if the field was playable. When he stepped on the field he left large footprints and someone yelled, "Snowshoes!", and that name stuck with him. Years later at a reunion on Parkway, Brother Francis came back to Memphis from his assignment at CBHS in St. Joseph, Missouri and he asked if anyone could tell him who the boy was who gave him that name...No answer!) It was at the time of that reunion that Brother Francis gave the combined commencement address to the high school and college classes of 1960 and he enunciated Cardinal Stritch's acronym for CBC -- Catholic Bulwark of Culture.

George Griesbeck taught English and Business Law. Most of the faculty consisted of Brothers, and he, with Julius Laurenzi, Captain Harrison and Walton Crosley were the lay staff along with Pops Miller. (Julius Laurenzi would soon leave the faculty and enter the car business selling Cadillacs.) Father James Murphy, Class of 1940, and Jim McNulty, Class of 1942, remember George as their teacher, and they liked him.

"He enjoyed the subject and so we enjoyed it," said Jim McNulty, who was blind and typed his work, and George gave him his tests and quizzes orally. Jim recalls one time when George told him, "Jim, this is going to be a hard test. I am not sure you will pass it." Jim passed it! George uttered a great insight into teaching the afternoon of our visit. "The attitude I took towards my class was the attitude that my class took towards me."

Asked whether the boys at CBC were tough to teach or easy to teach, George answered that he "thought they were a peculiar breed. One thing, if they told you something, you could bet that it was the truth. Yes, there were the tough guys, but up the ladder were those who could lead us with pride."

And, what about the Brothers? "The Brothers were fine, peaceful men, and the boys respected them, even 'the little ones' like Brother Henry William who taught math and science," said George. "Brother Matthias was a nice guy. He was everybody's friend. Brother Luke Joseph could be tough but was a gentleman -- but watch out for gentlemen! They have another side you don't want to see."

"The education the Brothers gave at CBC was far superior to that of any other school in Memphis in those days. Brother Theodore was one of the finest educators I have ever known. Brother I. Francis was a great history teacher and principal. He was highly respected. The Brothers were holy men. The legend about Brother Leander Patrick, who had been at CBC 38 years in three assignments, was that as a thanksgiving 'penance' for his escape with his family from the famine of Ireland, he wore around his waist a chain of small rings that by his death had embedded itself into his skin. He was a kindly man. He and some of the older Brothers would come to our home for supper some nights. Brother Leander's wake in February of 1936 was held in the parlor just to the left of the front door of the school. The Brothers were good friends of my family."

When CBC moved to the Parkway location in the spring of 1940, the last graduation class of the Adams school, 1940, held its commencement at the Parkway. The intended location was on the lawn, but rain forced the ceremony into the basement (cafeteria area) of the new high school building.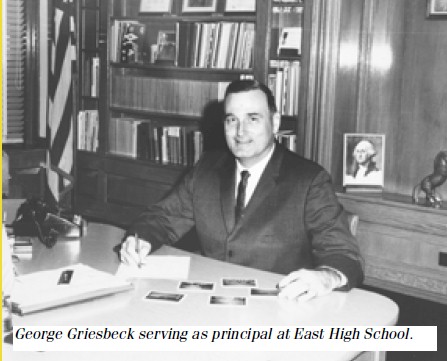 George Griesbeck ended his tenure at CBC and joined the Army to help America's cause in the European theatre of World War II. "I can remember climbing those rope ladders to board the ships," said George. "We were told one time which rope to hold and which one not to hold or else our hands would be smashed by the soldier's foot ahead of us." When asked how he and all the others made it through the war, George responded with one word, "Guts!"

When George returned home from the war, he entered the Memphis City Schools System to continue his career in education. He taught English and administered at Riverside, Guthrie, Treadwell, Fairview and East, where he served as principal for 15 years. He worked under School Superintendents Ball and Stimbert. Superintendent Ball, for whom the education building at University of Memphis is named, "was a no-nonsense man and a good boss," said George and Stimbert "was a good 'middle-of-the-road' man who led the schools during the turmoil of the late 50's and 60's."

George closed his career in education as principal of St. Anne Catholic School on Highland following the departure of the Sisters of Charity of Nazareth who had taught and administered the school since its opening.

Throughout his career, George Griesbeck enjoyed an excellent reputation for fairness and smooth operation of the schools he directed. "I enjoyed, and was happy at, every school where I worked," he said "That's a good formula for success in life! Be happy where you are!"

It follows suit with George's philosophy in teaching mentioned earlier in this memoir - the attitude the teacher has towards his class is the attitude the class has towards its teacher. No wonder CBC 1935 graduate Joseph George Griesbeck, Jr. is revered as a teacher, a principal and a highly-respected man!

At 94, he is our last living teacher at 612 Adams, and may he continue to enjoy his years as one of our grads and teachers.


---
Originally published in

Purple & Gold

, the official alumni magazine of Christian Brothers High School.
Used with permission.





The East High Alumni Page home page