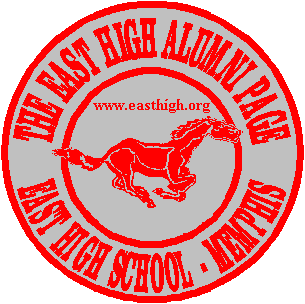 ---
What others are saying about The East High Alumni Page
---



"Outstanding web site!!!"

Perhaps, but it would be much better if every East alumnus who came to know about it sent in his/her profile and memories. The East High Alumni Page is about you if you are an East alumnus and your friends. Don't miss out.


Here are some of the comments, all unsolicited, about The East High Alumni Page:
"This is a great page!!! Keep up the good work!!!"
"I am glad that this page was set up so that the alumni can keep up with what is going on with their former classmates. Thank you so much!!!!!"
"This is wonderful."
"John said he had visited the EHS web site and gotten my email address. It's working."
"I didn't know East High School was still in existance as a high school! What a treat to link with my past!"
"I think that those of us who left Memphis long ago are particularly nostalgic and interested in news of classmates."
"Thanks to your AlumPage - Larry and I got together for a great 3 hour lunch to discuss old times ... We both agreed to start promoting the heck out of the AlumPage as away of keeping everyone in touch." [Editor's note: This from/about alumni who live 2,000 miles apart!]
"We are in the beginning stages of planning a web site for our association. I have been looking at the sites of other high schools. Yours is one of the best I've seen." [Editor's note: this from an alumnus of an out of state high school]
"Thanks for the wonderful page!"
"Kudos to the East High Alumni Page! It certainly brings back happy things, times and memories."
"Great sight, thanks for your work ... "
"It's great to see that we have a place to meet and hear about each other even outside of Memphis."
"... thanks to you and the web page, at least I got to visit with my friend one more time, after all these years." [Editor's note: the friend, an East alumnus, died unexpectedly a few months later.]
"I was so happy to find this page!!"
"Thanks so much for making available such a fabulous way to communicate with friends from long ago. Thank you for your time, creativity, and thoughtfulness."
"This is a very cool, well done site-thanks ..."
"And thank you so very much for the alumni page. Until I found it on the internet - I had really forgotten what wonderful memories of East there were."
"This is a great idea, and thank you. I hope that others in our class ... will add to the Web page. It will be fun to keep in touch."
"Great page! I've really enjoyed it."
"I am elated to see such a fine web page on line for my dear high school."
"This is a great opportunity to catch up with old friends."
" ... I have to tell you, your East High alumni web page is the finest, best organized, most attractive and informative page of its kind I have seen. Thank you for all the time and effort spent creating and managing this and especially for the good taste, attention to detail and obvious affection for EHS built in. Just one more good reason to be proud of alma mater and alumni!"
Just had to tell you how "beautiful" the East High site is looking!"
"Keep up the wonderful job on this web site."
"I hope you received my email thanking you for your work on the East web site, which has reconnected me ..."
"I want to commend you on a great alumni page ... [T]his site is very helpful to us. "
"Hey, this is great! I think what you are doing is wonderful!"
"GREAT PAGE! How can we spread the news that this information is on line?"
"Thanks so much for the work you do. I believe this website to be one of the best I've seen."
"Believe it or not, I was browsing the Web looking for a site my 14 year old niece created, and I found the East High Alum Home Page! ... Wow! What a surprise! It was wonderful to catch up, but bittersweet to see the obituaries... This Web site has been a great surprise! Thank you for the trip down memory lane."
"The East High web site is wonderful."
"Thanks to the people responsible for this webpage as I have loved catching up and will check it regularly."
"This is so cool."
"What a wonderful website! You are doing a marvelous job."
"It is so good to see all the names of old friends on the alumni list! Thanks to this page, I have been able to re-new a couple of old friendships."
"Outstanding web site!!!"
Join us today, fellow East alumni, faculty and former students.



Return to The East High Alumni Page home page.